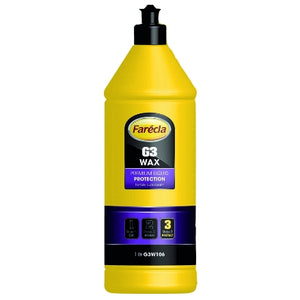 Farecla G3 Wax Premium Liquid Protection, 1L, G3W106

Note: Very limited quantity on hand. Only product in stock will be allowed in cart.
Product Overview:
Farecla G3 Wax Premium Liquid Protection, 1kg (G3W106) is a finishing wax specifically developed for trade use. It is quick and easy to apply and provides a durable, high gloss finish on fully cured paintwork and gelcoat.
This versatility product can be used by machine or hand and provides up to 3 months protection.
Quick and easy to use, the viscous formulation spreads easily providing a thick protective coating that won't dry out on the surface and buffs off quickly. Weather proof, does not dry out if applied in direct sunlight.
Features and Benefits:
Ultimate Gloss - Provides a superior gloss finish on all types of fully cured paintwork
Quick and Easy to Use - Viscous formulation spreads easily providing a thick protective coating that won't dry out on the surface and buffs off quickly
Weather Proof Application - Does not dry out in use in direct sunlight so it can be applied outside
Versatile - Product can be used by machine or hand
Paint Shop Safe - Free of volatile silicones
Durable - Lasts up to 3 months for a longer lasting protection
Video:
Technical Info:
Size: 1kg (2.2lb) in 1L bottle
Appearance: Pale purple liquid
Viscosity: Medium viscosity
VOC Content: 167g/L
Relative Density: 0.970
pH: 7 (approx.)
Paint Type Compliance: All paint types
Technical Data Sheet: Click

 

here

 

to view
Part #'s: G3W106 / 08713 / 78072708713