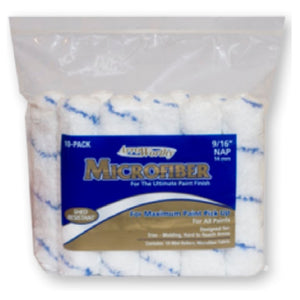 ArroWorthy Mighty Mini Microfiber 6.5" Size 3/8" Nap Roller Cover, 10-Pack, 6.5-MFR3CK
Product Overview:
ArroWorthy Mighty-Mini Microfiber Roller Covers (6.5-MFR3CK) are 6.5" long with a 3/8" nap and made of a special blend of high capacity, non-shedding European woven fabric good for all paints & stains, especially new low VOC coatings.
Great for those hard to reach places such as behind furniture and inside cabinets as well as large surfaces such as doors, walls, floors and ceilings. 
Roller design allows for quick and easy change out. Use with ArroWorthy Mighty-Mini Roller Frames (e.g. RF602, RF603) or similar quick change roller frame.
Sold 10 roller covers per pack. 
Features and Benefits:
3/8" nap height

Made of a

 special blend of 

h

igh 

c

apacity, 

n

on-

s

hedding European woven fabric

Good for all paints & stains, especially new low VOC coatings

6.5 inch length is g

reat for use on both large

 surfaces and

 hard to reach areas

Quick and easy to change out

for use with 

6.5" Mini Roller Frames
Sold 10 roller covers per pack
Specifications:
Roller Length: 6.5"
Nap Height: 3/8"
Surfaces: Smooth to semi-smooth
Applications: Safe for all paints & stains, especially new low VOC coatings
Quantity: Sold 10 roller covers per package
Recommended Frames:

 

ArroWorthy Mighty-Mini Roller Frames (e.g. RF602, RF603) or similar

Part #: 6.5-MFR3CK