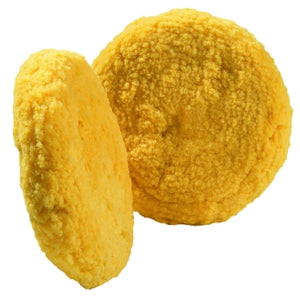 Buff & Shine 8" Double Sided Wool Buff Pad, Medium Cutting / Polishing, 803Y
 
Product Information:
Buff and Shine Double Sided Medium Cutting / Polishing Buff Pad (803Y) is a yellow wool blend and 4-ply designed for medium compounding and polishing applications. These are great for use in with medium cutting polishes and compounds as well as for removing wax.
Buff and Shine high-performance 8" Double Sided Wool Buff Pads are made with plush and durable fibers along with strong and washable backing structure. 
These pads are the professionals choice - double sided pads use a 5/8" x 24 thread screw on adapter which allows no chance for pads to fly off your polisher. Pads center perfectly, no chance for wobble. 
Double sided pads feature an inner plastic plate to which wool is attached during manufacturing. This process enhances flexibility in maneuvering around automobile panels with style and detail lines.
Compounds, waxes and polishes can be applied to each side of the pad and flipped when needed, reducing pad change out and saving time.
Features and Benefits:
Made with high quality plush durable fibers
Strong washable backing structure
Fits 

5/8" x 24 thread 

screw on adapter

Pads lock in and center perfectly, will not wobble or fly-off

Both sides of pads are 

usable
Made in the USA
Sold 1 pad per package
Application Suggestions:
For use with all light cutting restoration compounds, polishes, wax and glaze