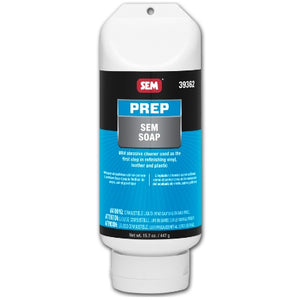 SEM 39362 Soap, 15.7 oz Tube
Product Overview:
SEM Soap (39362) is specifically designed as a first step cleaner for all paint repair and refinishing procedures ensuring trouble-free repairs; a must for all professional projects.
SEM Soap is excellent for cleaning vinyl as well as removing wax, grease, road film tar and also cleaning chrome, rubber and white wall tires.
SEM Soap gravitates into the pores of the substrate and floats contaminants to the surface. It also contains a slight abrasive to open the substrate for greater paint adhesion.  
Designed to properly clean surfaces before painting with SEM coatings such as SEM Marine Vinyl Coat and SEM Color Coat.
Features & Benefits:
Removes wax, grease, road film, tar, etc.
Great for cleaning chrome, rubber and white wall tires
Prep cleaner safe for numerous substrates including vinyl
Ensures proper cleaning for trouble-free repairs
VOC compliant and environmentally safe
Emulsifies contaminants for easy disposal
Easy to use one-step application
15.7 ounce bottle
Technical Data Sheet:
Click here