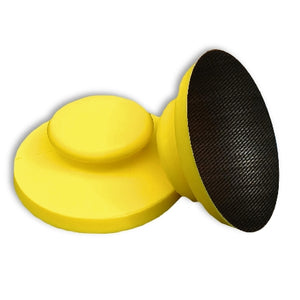 Ferro 6" Round Hand Sanding Block, Grip, JPS60

Product Overview:
Ferro 6" Grip Round Hand Sanding Block (JPS60) allows you to sand flat and get in to those tight spots where a mechanical sander can't reach or would be too aggressive. 
Round urethane molded palm sander fits comfortably in your hand. Grip face backing is designed for use with 6" size hook & loop sanding discs.
Features and Benefits:
Round urethane molded palm sander fits comfortably in your hand

Grip face backing designed for use with 6" size hook & loop

 sanding discs

Abrasive can be removed easily without tearing 
Technical Specs:
Grip face backing

Round urethane molded design fits comfortably in your hand

Use with 6" wide hook & loop sanding discs

6" diameter
Sold 1 each