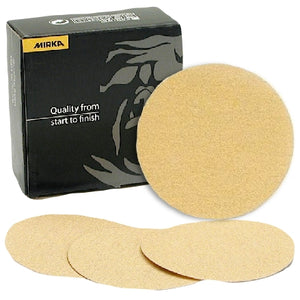 Mirka Gold 6" Solid Grip Sanding Discs, 23-622 Series
Product Description:
Mirka Gold 6" Solid Grip Sanding Discs (23-622 Series) are suited for high-speed sanding in a multitude of applications such as automotive, marine, wood, metal and composites. 
Designed for use with 6" hook & loop type backup pads.
Mirka Gold features latex paper backing, semi-open grain and special stearate coatings designed to prevent clogging and pill forming which helps achieve an optimal sanding result. 
Sold 50 discs per box.
Features & Benefits:
Extra strong aluminum oxide grains in 60 to 800 grit for an excellent long lasting cut
Optimized grain distribution allows the product to perform faster with less clogging
Gold 60 to 180 grit has a Calcium based stearate for tough grinding
Gold 220 grit and finer is Zinc based for less clogging on soft application
Improved backing paper, has a more even coating of grains and resin providing the perfect finish
Application Suggestions:
Suited for automotive refinishing, marine industry, composite processing, vehicles manufacturing, paint and decoration, woodwork
Suited for use on composite materials, hard and soft woods, MDF, veneers, mild, carbon and stainless steel, aluminum, cast iron, copper alloys, brass and bronze, lacquers, body filler, plaster, putty, sanding of paint, paint removal and much more.
Technical Specifications:
Grain: Aluminum oxide
Bonding: Resin over resin Progressive Bond™
Backing: Grip
Coating: Semi-open
Color: Gold
Grit range: P60 to P800