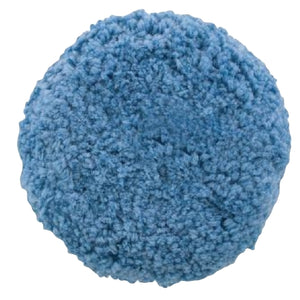 Presta 9" Wool, Blue Soft Polishing Grip Pad, 890144
Product Overview:
Presta 9" Blue Blended Soft Wool Polishing Grip Pad (890144) is an ultra soft pad designed for effectively removing swirls from painted and freshly painted surfaces. Perfect for use with Presta Chroma Swirl Remover.

Features a recessed cup edge backing that helps prevent the backing plate from coming in contact with the buffing surface.
Fits most standard 7" size grip backing plates such as the Presta #810116 Flex Foam Backing Plate.
Features and Benefits
Blue wool blend for soft polishing 

applications

Fantastic for removing swirls from painted and freshly painted surfaces

9" diameter, 1.5" pile height
For use with most standard 7" size grip backing pads
Recommended for rotary polishers
Made in the USA