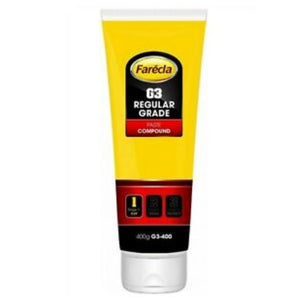 Farecla G3 Regular Grade Paste, 400g, G3-400

Product Information:
Farecla G3 Regular Grade Paste Compound (G3-400 / 00140) permanently removes 1,500 grit abrasive scratch marks quickly without fillers or silicone. G3 Paste is for use on OEM, Refinish Medium Solids and Air Dried 2k paint systems (well cured).
G3 Paste is a first-stage cutting compound, this means it has an aggressive cut to remove surface defects and abrasive sanding marks. G3 Paste may be used by machine or hand.
For an ultra high gloss finish, follow with Farecla G3 Fine Finishing Polish.
Features and Benefits:
Permanent - Removes P1500 abrasive marks quickly and easily with no fillers
Silicone-free - Can be used in body shops and applied nearby to where paints are 

used s

imple and easy to apply
High Gloss System - Can be followed with G10 Finishing Compound for an enhanced gloss finish
Paint Type Compliance - For use on medium and high solid coatings
Video:
Technical Specifications:
Appearance - White Color
Viscosity - High Viscosity Paste
VOC Content - 11.2% of Total Product
pH - 9.1
Paint Type Compliance - MS & HS
Sizes - 400 g tube and 3 kg tub
How To Use: