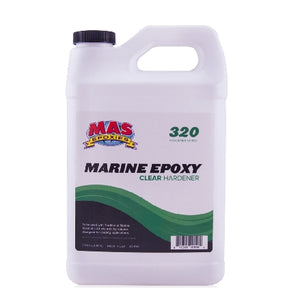 MAS Epoxies 320 Clear Marine Epoxy Hardener
Product Overview:
MAS Epoxies 320 Clear Hardener is a non-blushing ultra-clear hardener that can be used with MAS Marine Epoxy Traditional Resin for finish coat applications. After you have completed your structural lamination with MAS 520 Slow Hardener or MAS 510 Fast Hardener, use MAS 320 Clear Hardener to get the beautiful final finish you deserve.
MAS 320 Clear Hardener product is not designed for structural applications and should only be used with MAS Traditional Marine Resin.
When used with the MAS Traditional Marine Resin, MAS 320 Clear Marine Hardener is a non-blushing, low viscosity, low odor epoxy coating system that may be used for a wide variety of applications. It has a simple 3 to 1 mix ratio by volume, easily wets out fiberglass fabric and requires no messy wash downs.
Features & Benefits:
Great for finishing wooden FRP construction boat hulls or other projects
Cost effective clear coat finish to enhance wooden projects
Clear coating provides water-tight finish
Mix Ratio: 3:1 by volume
Gel Time: 26 minutes at 25°C in 150g mass
Data Sheets: